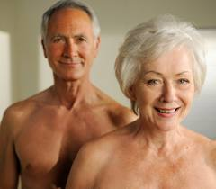 The Effects of the Aging Process on Sexual Behavior
by Stanley Ducharme Ph.D. (used with permission)

In this age of pharmaceutical interventions for erectile dysfunction, there has been much written about the prevalence of sexual dysfunction in our society. A few short years ago, it would have been almost unthinkable to consider how relaxed and open we have become about sexual conversations and sexual practices. More than ever before, sex has come out of the closet and has become an acceptable topic of discussion among families and friends.

When a former US presidential candidate such as Bob Dole, becomes the primary spokesperson for Viagra, we can be sure that we have entered a new era in our cultural and sexual history. Today, television commercials regarding various sexual problems are commonplace and hardly evoke a response.

In spite of the medicalization of sexuality, there has been little written about the sexual changes that naturally occur as we age. For most people these natural changes in physical functioning, attitudes and behavior often complicate an already difficult phase of life. Yet, for all of us, it is important to understand how we change as a natural result of the aging process.

For many, the reality of sexual desire and the practice of sexual function do not diminish with age. While it is obviously true that our bodies do change, the claim that they lose to ability to engage and enjoy in sex is simply not true. There are some problems that may require discussion and solutions — orgasm may take longer to achieve due to myriad factors from medications to nerve damage; vaginal dryness may need to be overcome with the use of lubricants; erectile dysfunction may require medication or various devices or implants — but the only thing holding back sexual function for most seniors desiring sex is themselves.

(Disclaimer: As always, consent is foremost. If a senior does not desire sex, whether due to a medical condition or not, it is their choice to abstain or not. Seniors and all consenting adults can live full lives without sex, however TCF would like to advocate healthy sexuality for seniors whose sexuality is often placed on the backburner or stigmatized in society.)

For men:
As men age, an unresponsive penis is devastating to self-esteem and unbelievably frustrating to sexual fulfillment. Many men simply give up on sex rather than seek help or investigate alternative ways of sexual simulation. However, almost all family physicians now include questions on erections during annual physical check-ups after the age of 50. For most men, the advent of Viagra and its later cousins has allowed the problem of erectile dysfunction to be relegated as mildly irritating as opposed to devastating.

For a small number of sufferers, a wide range of external and implantable devices have proved very successful in allowing for a form of erection to occur — sufficient enough for intercourse or other sexual acts. For individuals where erections or simulations of them are just not feasible, there are still methods of inducing orgasm manually or through the aid of other stimulation like vibrators or electro-stimulation.

For women:
Some women have developed the idea that as they age they naturally lose the desire to have sex, but, given the right circumstances and stimulation they may discover that not only is orgasm still delightful and achievable, it may even be greater than experienced before!

Without the pressures of performance demands, the stresses of family interruptions, and the exhaustion of employment, the hormonal changes that can have resulted in dryness, loss of nerve sensitivity, and the possible deterioration in muscle tone around the pelvic area all take a back seat for the woman who learns to welcome sexuality back into her aging years, finding sensuous pleasure and emotional fulfillment.

For both:
Even the physical act of sexual intercourse is achievable for aging bodies. There are chairs, swings, pillows, and new positions to try that allow people with bad backs, bedridden individuals, and those who just have aches and pains to engage in sexual intercourse.

For caregivers:
Individuals without partners who do not have the physical ability to manipulate themselves to an orgasm may need assistance in achieving that or in positioning a device that allows them to conduct this activity themselves in private.

Sometimes couples may need the assistance of a trained and understanding caregiver to establish the physical positions necessary for actual intercourse. Assistance in these areas is often uncomfortable to a caregiver and many will simply not deal with sexual matters for their care recipients. (NOTE: We are not delving into the ethical, moral, or legal aspects of sexual assistance in this article. Those are areas that must be carefully considered before engaging in any physical assistance with a care recipient's sexual needs.)

When faced with sexual problems, seniors (and their caregivers) would do well to seek out advice from a professional, particularly those who specialize in the sexual needs and function of the elderly. Making information available to seniors, providing shopping resources for supplies and equipment, and helping create areas and times of privacy, and educating others in the care of seniors is a solid start in providing for the needs of the whole person in your care.