Caring for seniors
One of the most difficult parts of caregiving is recognizing that various aspects of human nature don't simply disappear because someone is aging, becomes disabled or has to depend on you – the caregiver – for virtually everything in their lives.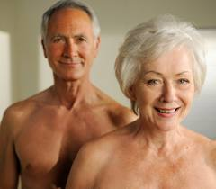 Women sometimes have to deal with the sexual expressions of fathers, husbands, sons – the persons for who they are providing care. And with each person, the relationship is very different. Fathers with dementia may express their sexuality thinking that they are relating to a spouse or girlfriend instead of a daughter or caregiver.
Men bathing their mothers may have to cope with feelings of real uncomfortableness when touch generates an unexpected response. Caregivers may find themselves the subject of groping or fondling.
Learning how to deal with these situations is vital to your own health as a caregiver and to the overall wellness of the person for who you care. Each of us has different preconceptions and standards of behavior with which we live.
The information in this section of the website is intended to provide practical ideas on how to deal with sexuality and caregiving – DO NOT CONTINUE IF UNDER 18 YEARS OF AGE OR IF THE MATERIAL HERE WILL BE OFFENSIVE TO YOU The information here is presented for educational purposes only.
Caregiving does not the relate exclusively to aging. Caregivers help people of all ages who are disabled due to disease, injury or congenital condition.
Caregiving for a person who is disabled or chronically ill is quite similar to caregiving for an aging loved one with a major exception. A younger person has significantly different sexual needs. A pre-adolescent has developmental needs and psycho-social needs that relate directly to sexual maturing. An adult who has developed a chronic disease or been disabled by an injury has sexual needs that are not commonly discussed by the medical profession or the caregiving community. You as a caregiver must be knowledgeable and willing to discuss and make accommodations or have someone else make accommodations for this very basic part of human existence.
We have gathered information for this section from professionals in the field of sexuality.