By TCF Executive Director Gary A. Powell
Many of us experience hearing loss as we age. In my case it is probably due to the various pieces of loud machinery that accompanied years of outdoor labor (and the volume of music blasting the neighbors out of their homes). For others, hearing loss can be the result of an illness, damage caused by an accident, and even a complication from some medications.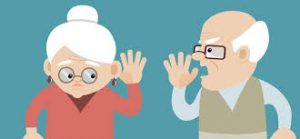 Hearing is a vitally important part of caregiving for both the person receiving care and the caregiver. It allows needs and wants to be communicated and received, and continued participation in the world around the individual. Hearing also may affect a person's physical well-being, as it also impacts a person's balance.
Knowing and admitting you are having problems with hearing are individual challenges for most of us. Here is a very simple way to tell if you or your loved one has a hearing problem: If you have to say "WHAT?" more than 3 times during a normal day, you may have a hearing loss problem. An audiologist can do a simple hearing test to determine if and how much of a loss is present. You can get this test done for free at most hearing aid shops – including Sam's Club where the Liberty Hearing Aid is sold.
For more information about hearing and hearing loss and potential treatments check out these resources:
In-person and Online Support Groups
Alexander Graham Bell Association for the Deaf and Hard of Hearing
For families dealing with childhood hearing loss and hard-of-hearing adults who choose to communicate through spoken language and speech reading. Extensive resource list.
American Tinnitus Association
The nonprofit ATA is an organization working to cure tinnitus, as well as a support group for sufferers.
Hearing Loss Association of America
Hearing-loss support and advocacy group and links to hearing professionals.
National Association for the Deaf
Advocacy group for deaf and hard-of-hearing people, with a focus on American Sign Language users.
Say What Club
Online support group of late-deafened, hard-of-hearing, and deaf adults.
General Information on Hearing Loss
Better Hearing Institute
Hearing-aid industry-sponsored site. Includes non-product-specific information.
National Institute on Deafness and other Communication Disorders
Government clearinghouse on hearing-loss issues.
Other Government Agencies
U.S. Department of Labor Office of Disability Employment Policy
Resources for disabled people in the workforce.
U.S. Department of Veterans Affairs
Information on hearing aids for service veterans.
Professional Organizations
American Academy of Audiology
Find an audiologist.