The Caregiver Foundation's Executive Director Gary A. Powell is also a published author. He has written a range of e-Books for sale directly related to our organization's mission, from children's books to caregiver guides.

Please also check out our Caregiver Bookstore for our compilation of caregiving resources via Amazon. A percentage of these purchases helps The Caregiver Foundation.

For Children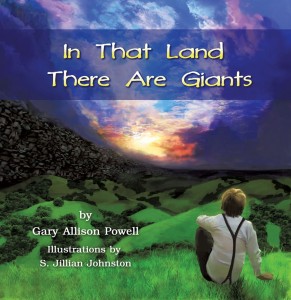 A children's picture book that tells the story of a young boy named Jacob who ventures into a forbidden land, eager to see the giants beyond. There, Jacob learns what happens to all the old and sick that disappear from his town and why people are so terrified of the great land beyond. In That Land There are Giants is a tale that reminds young and old alike to not fear the unknown.

Grandma Smells Funny
COMING SOON
A fictional work for elementary to middle school children, readers will learn to deal with the realities of their loved one's aging, disabilities, and caregiving processes.

For Caregivers
"Thank You for Understanding" cards
The Caregiver Foundation produced these useful little cards to help you help others understand what might be happening with your loved one.  Just hand a card to someone who stares or starts to get upset with the behavior.  It is amazing to see the reaction a stranger often has when he knows the situation.

Example: One day we were in a supermarket and my father went up to a woman, pointed to a pot of honey she was holding in her hand and said, "Hum, that's honey. It's good!" I was embarrassed about the uninhibited way he had approached this woman, whom I did not know. The woman replied, "Yes, it's honey and it's gentle like you". At that moment I realized that social norms weren't important, that what counted was sensitivity and that I could go anywhere with my father. (ALZ Europe)

We have these cards in packets of ten.  Nice cardstock, business card size, glossy paper. We wish we could just give them away but are asking for $2.50 for each packet (includes shipping).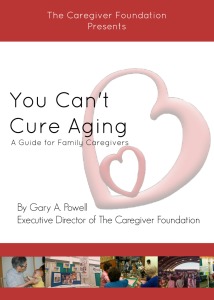 Are you a family caregiver? Odds are you are dealing with myriad responsibilities that take their toll on you, emotionally and physically. Much of the stress and anxiety felt by caregivers comes not only from the physical effort required to provide care but from the emotional impact of trying to cure a loved one's condition when all they are doing is simply aging.

Join The Caregiver Foundation's Executive Director Gary A. Powell as he teaches caregivers to re-frame their approach to caregiving, coping, and an aging loved one's needs and comfort.

COMING SOON
Fifty Essential Tips for Caregivers
An insightful collection of personal stories and advice from professional and family caregivers, as compiled by The Caregiver Foundation's Executive Director Gary A. Powell.

The Slow Goodbye
The picture book with personal stories from Gary A. Powell that inspired the workshop of the same name, presented by The Caregiver Foundation. Powell looks at intimate issues involved in family caregiving, including caring for a parent who did not care for you, and how to help your family transition into the added work involved in caregiving.

The Language of Aging
Knowing how a senior hears and understands messages is vital to caregivers. This book helps readers develop communication habits and techniques for loved ones and patients, while understanding the challenges between the aging process and continued mutual communication between caregiver and receiver.

The First Time Every Time
Watching a loved one age can be especially difficult if it is coupled with the development of dementia. The First Time Every Time provides background and resources for understanding dementia and Alzheimer's and how to deal with its symptoms and progressions as a caregiver, family member, and/or friend.

Your Dad, My Mom
A short book that discusses relationships in aging between romantic partners and between parent and child as romantic relationships develop in the golden years.